How is everyone feeling? The number of conferences and events that were held over the past two months was exponential! It was great to be able to get back into the swing of things after all the event postponements and cancellations the past few years.
See our list below of the conferences that my team and I attended across Australia as well as what's coming up next in the coming months. We hope to connect and see you in person soon!
In this edition you might want to check out:
Our latest Marilyn's musings
Current Opportunities
Latest Industry News
Our NEW Section – Publications of InterestNews
Register for Upcoming events
---
Latest Marilyn's Musing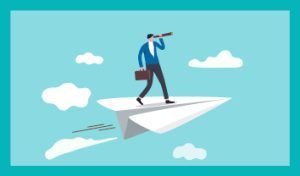 I have been fortunate to travel quite a lot recently to several different conferences in the MTP sector across Australia. It's been great to be able to be out and about again to develop my knowledge further, meet with companies and also new potential candidates…
Each time I have been to a conference or event there seems to be several consistent themes.
My key insights from the week at AusBiotech that everyone was talking about were, what I am now calling, The 5C's for a successful Biotech
Click here to continue reading the full Musing which includes Marilyn's tips on how we can ensure we are not in the same place in 5 years' time.
---
Other articles that might be of interest to you:3 What & Whys – Part 2Do you do what you say you are going to do?

---
---
ARCS Summit, AGM & Dinner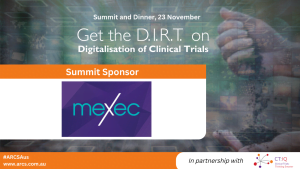 ARCS: Get the D.I.R.T on Digitalisation of Clinical Trials Summit & Dinner
Wednesday 23rd November 2022
Come along and have a vino at the end of the day with Marilyn from mexec. Looking like a very informative and interactive day on Digitalisation of Clinical Trials.
---
---
Are you a Director? Did you know you have to be registered for the director identification number?
What is a director ID?

All company directors must apply for a director identification number (director ID). It's a 15-digit identifier given to a director who has verified their identity with the Australian Taxation Office.

When do you need to apply?

If you were appointed under the Corporations Act 2001 on or before 30 October 2021, you need to apply for a director ID by 30 November 2022.

If you are about to be appointed as a director, you must apply for a director ID before your appointment.
---
Company Profile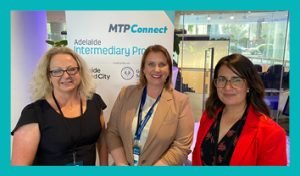 MTPConnect & Adelaide BioMed City
Being an old Adelaidean it was lovely to catch up with Dana whom I placed with MTPConnect recently. It was also great to meet up with Jo and the rest of the team.
There is so much happening in SA compared to when I was at University or when we as a family were considering which town to live in on our return from the UK 17 years ago. COVID and ZOOM and Teams have enabled so much more connectivity that for some roles you can work anywhere now!  
Take advantage of this offer now by using the code: MEXEC22 when you enrol. 

mexec memberships
mexec works at the interface of industry, research and academia. We are pleased to profile our membership of ASBMB.

Biochemistry and molecular biology are fast-moving fields that underpin all life sciences and play a central role in many areas of economic, medical, agricultural importance to modern society.

The ASBMB exists to facilitate research, training and education in these fields across Australia, organise conferences, fund activities at a regional level, play a role in science advocacy and recognise the achievements of their members.

mexec is pleased to partner with SeerPharma to promote some great initiatives for training for companies and individuals.
For more information click here and here.

Industry News
2022 Skills Priority List Key Findings Report 
ARCS Grow Program – Skills for Clinical Research Associates
Wilam – Life Sciences Industry Community
Australian Government to Revitalise our Science and Research Priorities 
Medicines Australia – Lowering Australia's Discount Rate on Medicines
Aged Care Quality Standards – Clinical Care
Publications of Interest
Nature Medicine – The landscape of mRNA nanomedicine
National Library of Medicine – CAR Race to Cancer Immunotherapy: From CAR T, CAR NK to CAR Macrophage Therapy
Recent Events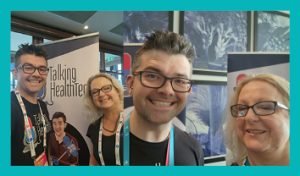 Talking HealthTech
Seems I am following Peter from Talking HealthTech around Australia. First in Sydney at MTAA and then in Perth at AusBiotech.
If you have not already registered for the Talking Healthtech Spring Summit check it out here.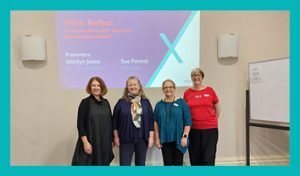 mexec Pitch Perfect

Marilyn and Sue were privileged to present the mexec jobstrategy™ program in a 2 day retreat format for The University of Melbourne, Faculty of Medicine, Dentistry and Health Sciences (MDHS).
Thanks to Jenny Gunnerson for initiating this new program "Pitch Perfect" "communicating with clarity to advance your career".
The students also benefited enormously from the unique opportunity to work with professional voice coach, Anna McCrossin-Owen.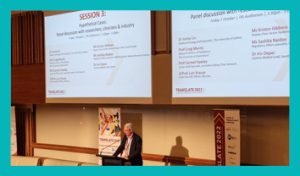 TRI Translate 2022 
Mark attended TRI's inaugural Translate conference on behalf of mexec this year, held on the 6th and 7th of October. It was an excellent event full of great information about medtech and biotech commercialisation pathways during the Thursday sessions; and then modern clinical trial considerations and platform methods during the Friday sessions. We are looking forward to this becoming an annual must-attend event for the sector.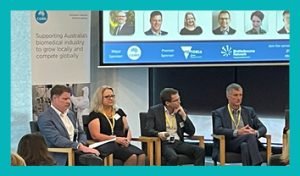 Marilyn on the Panel for BioMelbourne: Talking a shared journey – A discussion on research-industry connections
Marilyn was invited onto the panel with Greg Mullins from Research Australia, Chris Porter from Monash University, Scott Cummins from ATSE – IMNIS, Michelle Peak from SeerPharma and chaired by Jeff Malone from BioMelbourne.
BioMelbourne Network's full-day BioSymposium dissected the fundamental barriers in biopharma for the development of a stronger, more supported sector. Delivered across four sessions, industry experts examined the obstacles between research and industry, explored key considerations of a connected ecosystem, how to break down the barriers in biopharma manufacturing, and discuss opportunities to strengthen and optimise the clinical trials landscape.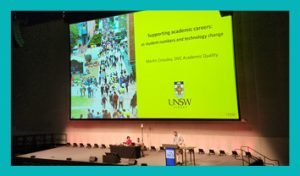 Marilyn at the ComBio Conference It was a busy couple of days with over 1100 attendees. I was able to join in some of the smaller sessions on education and had some really interesting discussions on having to move teaching on line during COVID and the success stories of what worked, but also what issues were faced.
Good discussion on how best to ensure that the balance of in-person and online is going forward.   

 Mark attended the QUT CBT Conference The Centre for Biomedical Technologies Conference 2022 was an excellent opportunity to learn more about the researchers at CBT and also the cutting-edge work they do. Much of this work on deep learning, tissue engineering and medtech devices is globally recognised for its innovation and translational potential, thank you to QUT and CBT for an excellent couple of days.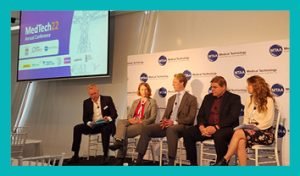 Marilyn at MTAA MedTech22 Annual Conference It was great to catch up with one our clients Jack Lancaster from Evolution Surgical who was on a panel moderated by Stuart from MTAA and also including Lisa Dube COO from MTPConnect.
The MedTech22 Annual Conference is the premier medical technology industry conference in Australia and brings together leaders and influencers across the industry, government and academia to discuss the key issues affecting MedTech.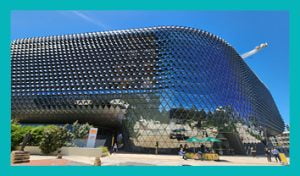 Marilyn at ACTA 
What a great conference from ACTA this year at SAMHRI in Adelaide. From new apps for breast cancer, mental health, registries and what does and does not work for COVID antivirals.
I came away with a huge appreciation for medical research in Australia and how patients can feel confident of the rigours of clinical research and the evidence-based approach.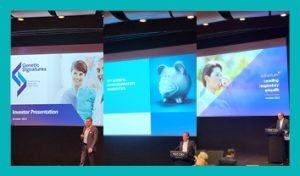 Marilyn and Sue at Australian Microcap Investment Conference 
Great to hear from a few of our clients including Michael from Rhinomed, John from Genetic Signatures and Rick from adherium.
mexec is proud to be working with innovative Australia companies that are expanding on the worlds stage.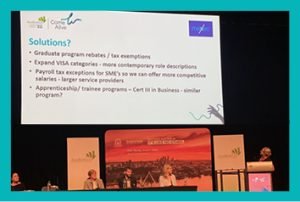 Marilyn on AusBiotech panel 
Marilyn was invited on to a Panel at AusBiotech to talk on the employment challenges in biotech. See my Musings for further insights.
The week was a great chance to reconnect in the industry and also to meet many new people. Perth put on a great show and we are looking forward to seeing you in Queensland next year.
Chaired by Anita van der Meer from CSIRO, Marilyn was joined by:
Sue MacLeman, Chair, MTPConnect
Professor Kevin Pfleger, Director, Biomedical and Health Innovation, WA Life Sciences Innovation Hub
Anne O'Neil, Director Enterprise, International Partnerships & Clinical Trials, NSW Health
Dr Marguerite Evans-Galea AM, Director, STEM Careers Strategy, Australian Academy of Technology and Engineering.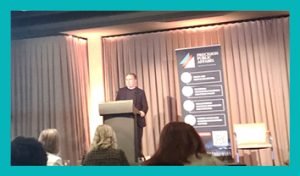 BioPharmaDispatch Post Budget Summit 
Paul opens the BioPharmaDispatch Post Budget Summit.
An insightful day of speakers from government, Medicines Australia and industry on the current state of play of access to medicines in Australia. Next years full day event is available here.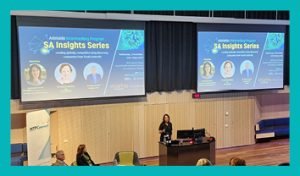 SA Insights Series 
SA Insights Series with Deborah from Carina Biotech and Steve from Tenmile. Chaired by Stephanie Morris.
Great to hear about the ups and downs of a biotech drug discovery journey, as well as the investment issues and future prospects for Australia. Many events happening in Adelaide through Adelaide BioMedCity and MTPConnect. Check them out here.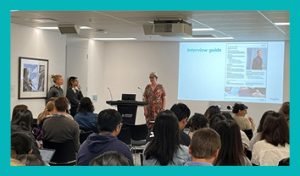 Sue Presented at the Climate Extreme Meeting 
Sue Forrest presented mexec jobstrategy™ (face to face!) at the Early Career Researchers meeting for the ARC Centre of Excellence for Climate Extremes' in Melbourne on November 18th. There were more than 60 attendees who actively engaged with numerous great questions about CVs, interviews and career opportunities. Great to have the opportunity to be part of the impressive professional development activities undertaken within CLEX.
Upcoming events
Is your conference not listed here? mexec aims to be inclusive of conferences and events across the STEM sector in Australia for both academia and industry. Reach out to us if you are not listed and we are very happy to advertise at no charge for your upcoming conference.
ARCS Summit
23 November 2022
Melbourne
mexec is sponsoring drinks and we will also have a stand – see you there!
Annual Victorian Biomedical Imaging Capability Network Meeting
24 November 2022
Melbourne
mexec will see you there!
Register Now
Talking HealthTech Spring Summit
24 November 2022
Virtual event
Register Now
Drug Delivery Australia
24-25 November 2022
South Australia
Register Now
ANDHealth Digital Health Summit: The Awakening Giant
6 December 2022
Melbourne
Register Now
10th Annual Victorian Healthcare Week
7-8 December 2022
Melbourne
Register Now
Joint EFSPI & BSS Virtual Event
Addressing intercurrent events: Treatment policy and hypothetical strategies
8 & 15 December 2022
Register Now
Lorne Proteomics 
2-5 February 2023
Lorne
Register Now
Lorne Proteins 
5-9 February 2023
Lorne
Register Now
Lorne Cancer 
9-11 February 2023
Lorne
Register Now
Lorne Genome 
12-14 February 2023
Lorne
Register Now
Lorne Infection & Immunity 
15-17 February 2023
Lorne
Register Now
Connecting Women Lunch  13 May 2022 Sofitel Melbourne on CollinsRegister Now
Digital Health Festival 2023
6-7 June 2023
Melbourne
Register Now
ARCS Annual Conferences 2023
6-8 June 2023
Sydney
Register Now
19th World Congress on Medical and Health Informatics 
8-12 July 2023
Sydney
Register Now
---
Links of Interest
WILD – Women In Leadership Development: Supporting Diversity in STEM leadership.
Nature's Abstract Writing Template
Art of Science – WEHI Online Exhibition 2022
Praxis Clinical Trial Coordinator Internship Program
Praxis Virtual Workshops – Project Management in Research and Clinical Trials
Investor Guide – Health and Biotech FY2023
Mentimeter – Engage your audience & eliminate awkward silences
Australian Life Expectancy Increases During COVID-19 pandemic – Australian Bureau of Statistics
LinkedIn Text Symbols to Use for your Profile 💻✈🏢👍🚴🍫
Everyday Items with Hidden Features you Didn't Know the Purpose of
A quick tip!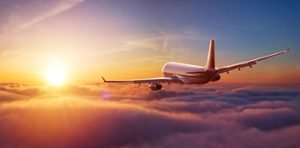 Attention JetsettersWhen booking flights or hotels online, clear your cookies before you start looking, or search in Incognito mode for lower prices.
Please don't hesitate to contact us if we can be of assistance with your job search or executive recruitment.
With best wishes,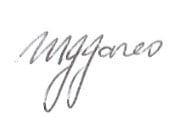 Marilyn Jones
Executive Director
mexec
1300 0 MEXEC