Happy New Year! As many of us head back to work to begin the new year, it can be a time to reflect, set new goals and plan for the year ahead.
In this edition of our newsletter, we've provided some articles that might help you think about that next move, some of our current job opportunities, as well as some events to help get you networking.
We hope that you've had a wonderful 2019 and that 2020 brings you much health and happiness. Our thoughts are also with those that continue to be impacted by the devastating bushfires across Australia.
We would like to share a few key things to think about that might be inferring things about you to potential employers and preventing you from achieving your dream job.
You are unemployed or looking for a new job. Your life revolves around applying for jobs every day – day in and day out. No one gets back to you and if they do it is unfortunately always a no.
You do want to know the result either way, however the employers are busy with their own work commitments and sometimes it can take weeks to get a reply. It's incredibly frustrating to not know what is going on.
What do you do? Why is it a no? What is wrong with my application? What is wrong with me?
As a recruiter, I am starting to keep some hard stats on the reasons why I and my clients say no to candidates and their applications.
We prefer to match the right candidates with the right roles, so we don't always advertise our roles. Register with us to stay up-to-date with the latest career opportunities.
Company Profile – Inner Maven
Established in 2009 by Dr Anabela Correia, Inner Maven Pty Ltd offers commercialisation services specialising in delivering innovative medical technologies to market in the life sciences, biotechnology and pharmaceutical industries.
Dr Correia identified a market need to assist those with a new technology or idea to navigate the complex and challenging pathway to market. The Inner Maven team utilise their extensive network and experience in technology commercialisation, funding and capital raising, market analytics, IP, market strategy, corporate governance, financial modelling and R&D tax to assist clients in a structured and efficient way.
Based in Melbourne, Dr Correia also plays the role of CEO for one of Inner Maven's clients – Livac Pty Ltd – an award-winning surgical device company. She's a great example of an amazing woman of STEMM that wears many hats!
I've been working with Anabela and the teams at Inner Maven and Livac for a few years now, assisting them with their search and placement of highly specialised, skilled staff with a particular emphasis on team and client fit.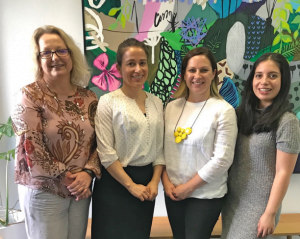 Industry events
Industry events and conferences are a great way to network with peers and provide you with educational, business development and partnership opportunities.
Here is a snapshot of some of key industry conferences that I've attended recently and my highlights from each.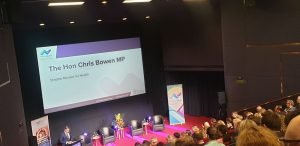 PharmAus 2019
I was able to connect with the healthcare sector, pharmaceutical industry, politicians, key stakeholders and policy makers at the PharmAus 2019 conference at Parliament House. The focus for the conference was on "Medicines Matter: to the patient, the community and the economy."
There were some interesting figures presented on healthcare and clinical trials being the fastest growing job sectors, and announcements from the government to expedite PBAC processes, review the national medicines policy and a decade-long commitment to the Medical Research Future Fund.
Australian Institute of Company Directors – Essential Director Update 19
Lots of stimulating discussion on governance, regulation and business trends at this course for company directors.
I was interested in the sessions that focused on company culture and conduct and posed the question – do we live by our own values? There was also some discussion on whether companies should have a social purpose. Some food for thought.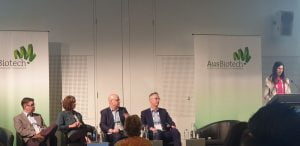 AusBiotech 2019
As well as becoming a corporate member of AusBiotech this year and attending their AGM for the first time since 2000, I once again had the pleasure of attending their annual national conference.
There were some interesting panel sessions on best practices in hiring in biotechs and the importance of placing a focus on people, leadership and culture.
The unique path to market for medicinal cannabis was discussed particularly when the need is patient rather than business driven. Access to gene therapies and the need for Australian based provision of therapies at a cost that is not inhibitive was also a strong discussion point with the panel calling for action on this.
BioMelbourne Network Annual General Meeting
The BioMelbourne AGM was well attended as always. It was not only a great networking opportunity but provided the chance to reflect on the year's achievements and their future plans and initiatives. Guest speaker at the event was Mark Sullivan from Medicines Development for Global Health. Mark was also recently awarded EY's "social entrepreneur of the year."
ARCS Australia Annual General Meeting
This year's AGM for ARCS Australia had digital health and social media expert, Michelle Gallaher, as guest speaker presented "You, me and the machine" which offered great insights into the digital revolution, data and AI in the health space.
We'd also like to congratulate the newly appointed members of the ARCS Board of Directors including Andrew Carter from Commercial Eyes.
Women in Science Parkville Project (WISPP)
I was delighted to attend the 5-year anniversary of WiSPP recently. WiSPP was established to address gender inequity within medical research, drawing on the collective knowledge, resources, and commitment of Australia's five eminent medical research institutes.
In just 5 years, the team of 56 scientists and other volunteers have collectively delivered programs reaching over 2000 female scientists. Congratulations to Julie Bernhardt and the team on reaching this milestone and for making an impact for women in science.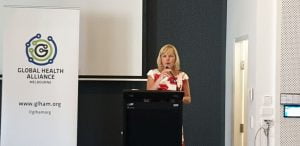 Global Health Alliance Australia
GHAA is working to improve health equity, health security and innovation in our region through an alliance of member organisations. This includes almost 50 WHO collaborating centres from across Australia as well as Monash, Deakin and Melbourne Universities and CSIRO.
I recently attended the launch of their health literacy program, which was introduced by the Chair of the Alliance, the Hon. John Brumby.
BioMelbourne Network and AusBiotech Christmas networking event
It was great catching up with everyone at the recent BioMelbourne & AusBiotech Christmas networking event. A good representation from the biotech, medtech, pharmaceutical and digital health sectors so worth putting in your calendar for next year.
There was a lot of discussion amongst attendees about the government's recent decision to cut the R&D tax incentive. If the proposed changes go ahead, it could significantly impact the vast majority of SMEs and companies in life sciences and threaten their ability to not only compete in the global market but to sustain their business.
Latest training & presentations
Medtech Actuator
It was great to get together with a new group of MedTech starts ups that have joined the Actuator cohort to discuss the ins and outs of hiring in the market today. Hiring, firing and compliance are all important aspects to understand when building a business as well as where to access the information. This can be a challenge for those that have been focused on the innovation and development of a medtech product and suddenly find themselves in the role of CEO/MD/HR/all of the above of a start-up.
University of Melbourne
It was great to see so much enthusiasm in the room as I spent time with students from the University of Melbourne science communications degree taking them through career opportunities in science.
With so many career paths and options, this can be daunting for some, so it is important to give the students an understanding of what is available to them and be available to answer their questions.
Upcoming conferences and events
JP Morgan Healthcare Conference 2020
13-16 January, San Francisco, USA
BioMelbourne Network Biobriefing hot or not – trends for 20206 February, Melbourne
25th Annual Lorne Proteonomics Symposium
6-9 February, Lorne, VIC
45th Lorne Conference on protein structure and function9-13 February, Lorne, VIC
32nd Lorne Cancer Conference
13-15 February, Lorne, VIC
Lorne Genome Conference 2020
16-18 February, Lorne, VIC
Lorne Infection & Immunity Conference
19-21 February, Lorne, VIC
ANDHealth B.R.I.G.H.T digital health summit
24-26 February, Melbourne
8th Annual Devices + Diagnostics Lab
5 March, Melbourne
Women in Life Sciences Lunch – Sydney
6 March 2020, Sydney
Connecting Women Lunch – Melbourne
8 May, Melbourne
BioPharma Dispatch Conference 2020
18 May, Sydney
BioUSA 2020
8-11 June, San Diego, USA
A quick tip!
Use @mention to tag someone in Microsoft Office
Have you ever received an email or a document with comments and noticed that someone's (or your own) name has been tagged? It's not just social media platforms that use the @ symbol to include someone or to get their attention.
By inserting @someone's name in a comment in a document, presentation, spreadsheet, the person you mention then receives mail with a link to the comment. If that person clicks on the link it brings them into the document and into the conversation.
Links of interest
Staffing over the holiday season: What's legal and what's not?
Probation period information from SEEK.
VESKI – group to network and join and superstars of STEM.
Zapier – good blog on how to get "Inbox Zero."
Nature – recently published article on clinical trials and AI.
Genengnews – interesting article on the microbiome.
Greg Savage – insights into recruitment, business and consulting.
Got a link of interest or article suggestion for our next newsletter? We'd love to hear from you!
We would also like to take the opportunity to thank you for your support of mexec careers in 2019 and wish you all the best for a safe and happy 2020.