Life is starting to get back to some normality, whatever the new normal may be. The number of conferences and events on until the end of the year is going exponential! It's great to connect and get out to have those incidental conversations with everyone that we could not do for the last couple of years.
See our list below of the conferences that my team and I will be attending across Australia in the coming months. We hope to connect and see you in person soon! 
Also, a quick update on the STACK method from my last Marilyn's musings.
I'm loving it!! My inbox is emptied each morning, with my emails sorted and I work according to tasks. Check out the last musing for information on it.
In this edition you might want to check out:
Our latest Marilyn's musings 
Special offer from PRAXIS
Catch up on the latest Industry News
Register for Upcoming events
---
Latest Marilyn's Musing
I recently talked on the 3 Big Whys to consider in your job search and hiring strategies for you and your business..
The list of items  that I can talk about seems to keep on growing each year. Today,  I would like to highlight 3 more questions that have been asked of me…
Click here to continue reading the full musing which includes Marilyn's tips on the 3 big Whys to consider in your job search and hiring strategies.
---
Other articles that might be of interest to you:
---
mexec now has a YouTube Channel
We have recently launched a mexec YouTube Channel which now features content on the mexec move initiative. 

More content is on the way. To make sure you don't miss out on the last updates from mexec subscribe to our channel.

It was great to catch up with Sally Armstrong, the CEO of PRAXIS.

mexec placed Sally in her role at PRAXIS and it was great to finally see her in person! Our lucky day too as we just so happened to have Adrienne Bizzarri in for the day to update our staff's headshots.
See below the special offer from PRAXIS for mexec clients and candidates
PRAXIS Australia is delighted to provide mexec clients and candidates engaged or interested in clinical trials and research with a 20% savings on all PRAXIS Australia training offers. 
This includes Research Essentials and HREC Essentials, and all of our workshops. 
Take advantage of this offer now by using the code: MEXEC22 when you enrol. 

Ready to update your latest company photos or require a photographer for your next function? Please reach out to the lovely Adrienne who did our latest company photos just last week! 
Company Profiles
Millennium Science / Jomar Life Research 
Millennium Science a leading supplier of biomedical research instrumentation, and Jomar Life Research, a major supplier of life science kits and reagents, have formed a strategic alliance under common ownership to provide Australian and New Zealand researchers improved access to research technologies and supplies.

It was great to have a catch up over lunch and finally meet the staff we had placed over the last 2 years with Alex Szabo and the team at Millennium / Jomar.

Opin 
It was good to catch up with Michelle G and her new 3 team members that mexec recruited for the OPIN team – Joshua, Anthony and Nicola. 

Did you know you could be involved in medical research/ clinical trials. Check out their innovative global platform here. Check out Michelle G's guest article on AI in Healthcare

Kinoxis Therapeutics  
At Kinoxis Therapeutics they are developing compounds that help restore normal social functioning by rebalancing activity in the brain and mind.

Finally able to catch up with Ray who I placed nearly 2 years ago with Hugh Alsop and the team at Kinoxis. Great now we are opening up I can finally visit their office with one of the best views in Melbourne, if not Australia!

Agilex Biolabs 
It was lovely to connect in person and share a vino with Holly Stefl, the Chief Commercial Officer with our client AGILEX BIOLABS Pty Ltd. 

An Australian success story that brings more than 25 years of experience in clinical trials bioanalysis.
mexec memberships
mexec has recently joined NSV – Neurosciences Victoria Industry Council.

I was able to present to both the Industry and Science Council on our recruitment for clients and our support for candidates seeking new opportunities. 

It's encouraging to see the engagement between industry and research thanks to Anthony and the councils at NSV. Looking forward to being part of the Industry Council and engaging to help grow the Neuroscience sector in Australia.
Job Alerts
Your CV tells us what you currently do, your job alert tells us if you want to make a change from what's on your CV.
Be the first to know about any new exciting opportunities through mexec by registering for our job alerts today!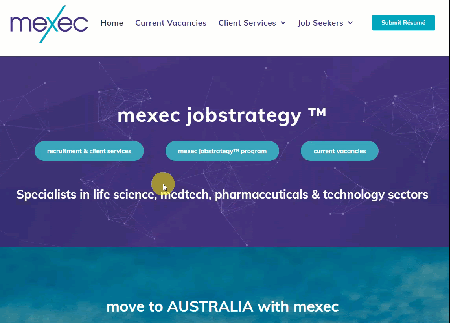 Industry News
Recent Events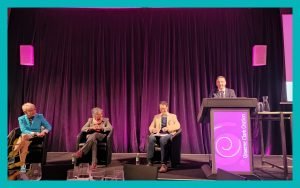 The Bionics Institute 2022 Graeme Clark Oration Women in STEM Lunch
Rob Klupacs from the Bionics Institute thanks the panel at the Women in STEM lunch for the Bionics Institute 2022 Graeme Clark Oration.
An inspiring discussion by Dr Natalia Trayanova and Dr Nilmini Wickramasinghe from Swinburne University, it was a privilege to hear their thoughts and insights.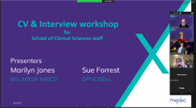 Monash Health – WISDOM Group mexec Workshop 
Sue and Marilyn presented a  workshop that was a discussion on a journey through considering your goals, opportunities, networking, CV, cover letters, social media and interviews skills. 
Being prepared for the next step in your career involves being able to position yourself for opportunities within or outside academia. Presenting one's CV and indeed oneself for different sectors can be quite a challenge.
CV writing has the most extensive focus in this workshop with the aim of empowering attendees to develop CVs that clearly articulate their skills and abilities and ensure the CV is relevant for the role being applied for.
Reach out to us if you would like to consider us working with your Institute, University or organisation.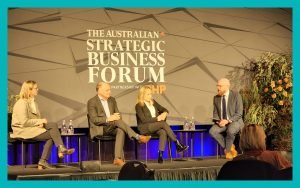 The Australian Newspaper Strategic Business Forum 
Marilyn recently attended The Australian Newspaper Strategic Business Forum.
There was an informative panel discussion with insights into the biotech industry in Australia. The panel had a good mix of academia, biotech and venture capital members including; Andrew Nash from CSL, Professor Sharon Lewin from the Doherty Institute and Amanda Gillon from BioScience Managers.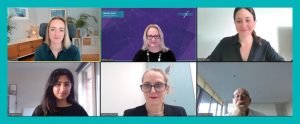 ANDHealth Masterclass on Diversity in Governance
Marilyn was invited onto a panel with the ANDHealth Masterclass to talk on Diversity in Governance – The What, Why and How. Chaired by Gavin Fox Smith with panel members Duane Attree from Beamtree and Catherine Robson.
We could have kept talking for a lot longer! So many aspects to cover and make sure organisations are thinking about, no matter what their size or stage.
WILD Program
I was fortunate to attend the WILD closing event for 2022 and the launch of their 2023 program. Keep an eye out for next years intake and in the meantime WILD are also running some workshops that may be of interest to you.  
WILD Women's premier program, the WILD Program®, provides STEM women leaders with the necessary qualifications, skills and confidence to achieve career momentum and attain senior leadership roles, particularly company directorships.
Unfortunately this years intake is closed, however keep an eye on their

website

for their workshops and next years intake. 
KCA Awards Conference Dinner
Marilyn attended the KCA dinner in Melbourne. With over 200 commercialisation professionals in attedance it was a night connecting and socialising.
BioForum – Medtech to Market: The Snakes and Ladders of Team Curation
BioMelbourne held an early morning event on the importance of the right team for your organisation and recognising the importance of Consultants for development of new products.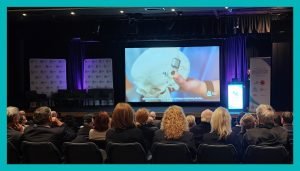 Bionics Innovation Lecture 
Mark and Marilyn from mexec attended the inaugural Bionics Innovation Lecture at the Melbourne Museum.
Speakers included CSL's Dr Andrew Nash as the key note speaker and Tom Oxley from Synchron illustrated the challenges in commercialisation research.
Upcoming 

events
MedLab: Commercialisation 101


20-21 September – Sydney




11-12 – Brisbane 




17-18 November – Online


Register Now
Combio 2022


27 September 2022




Melbourne


Register Now
Fragment-Based Drug Design Down Under


28-30 September 2022




Melbourne


Register Now
Wild Masterclass: Create & nuture your personal sponsors & champions


5 October 2022




Gold Coast


Register Now
Leading & Managing: The People Side of Technology & Manufacturing Teams in Bioscience


6 October & 3 November 2022




Melbourne


Register Now
MTAA MedTech22 Annual Conference


6 – 7 October 2022




Sydney


Register Now
TRI Translate 2022


6-7 October 2022




Queensland 




Mark from the mexec team will be there, say hi!


Register Now
Biosymposium: Breaking Barriers – Supporting Future Biopharma


11 October 2022




Melbourne




Marilyn is on the panel!


Register Now
CCRM Australia Business of Regenerative Medicine APAC Symposium


20-21 October 2022




Melbourne


Register Now
The MedTech Conference, AdvaMed

24 – 26 October 2022

Boston

Register Now
Singapore Week of Innovation & Technology


25-28 October 2022




Singapore


Register Now
AusBiotech Australia's Life Sciences Conference – Come Alive


25 – 28 October 2022




Perth


Register Now
AusBioInvest


27 October 2022




Perth


Register Now
AGTA


30 October – 2 November 2022




Queensland


Register Now
ACTA Annual Scientific Meeting


7-8 November 2022




Adelaide


Register Now
NFMRI Medical Research Innovation Conference – Research with Purpose


22 November 2022




NSW


Register Now
ARCS Summit


23 November 2022




Melbourne 


mexec is sponsoring drinks and we will also have a stand – see you there!
Register Now
Annual Victorian Biomedical Imaging Capability Network Meeting


24 November 2022




Melbourne 


mexec will see you there!
Register Now
Drug Delivery Australia


24-25 November 2022




South Australia


Register Now
Lorne Proteomics 


2-5 February 2023




Lorne 


Register Now
Lorne Proteins 


5-9 February 2023




Lorne 


Register Now
Lorne Cancer 


9-11 February 2023




Lorne 


Register Now
Lorne Genome 


12-14 February 2023




Lorne 


Register Now
Lorne Infection & Immunity 


15-17 February 2023




Lorne 


Register Now
Connecting Women Lunch 

13 May 2022

Sofitel Melbourne on Collins

Register Now
Digital Health Festival 2023 


6-7 June 2023




Melbourne


Register Now
ARCS Annual Conferences 2023 


6-8 June 2023




Sydney


Register Now
19th World Congress on Medical and Health Informatics  


8-12 July 2023




Sydney


Register Now
---
Links of Interest
Double 3 Robot – A self driving, two wheeled videoconferencing robot that revolutionises the way your work or learn remotely.
Study Australia – Start your Australian education today from wherever you are.
Anti-Hangover Pill – Said to break down up to 70% of alcohol in an hour.
Woolly Mammoth Revival – Learn about the project to revive the long lost Woolly Mammoth using genomic insights.
Beat the fear of networking – This simple trick will make networking less stressful.
A quick tip!
Secure PasswordsTo get a tough to crack password, use non-English characters on your keyboard.
Please don't hesitate to contact us if we can be of assistance with your job search or executive recruitment. 
With best wishes,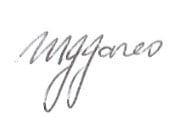 Marilyn Jones
Executive Director
mexec
1300 0 MEXEC