"You're on mute!" We all thought this was just a 2020 catchcry but unfortunately, it's worked its way into 2021. A phrase that we'd all hoped would be replaced this year by "so good to see you in person!"
Whilst most of us can't bump into colleagues old and new at industry events (the obligatory glass of wine in hand of course), we'd encourage you to continue to attend online events or reach out to people via email, phone or LinkedIn (glass of wine optional). You just never know what the interaction could do for them or where it could lead you.
mexec clients


In The News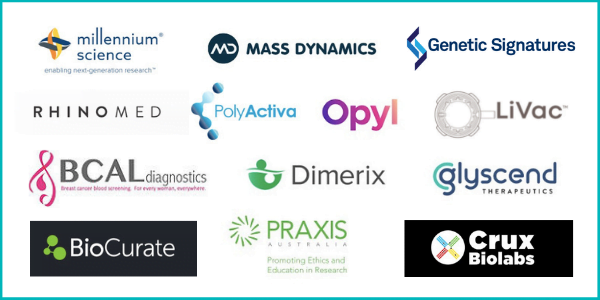 It's pleasing to see growth across the industry with mexec recently placing people in both existing and newly created roles at the companies listed below.
Praxis – Founding CEO Melanie Gentgall will step down from her role in late October with Sally Armstrong appointed as Melanie's successor. We wish Melanie all the best and congratulate Sally whom we placed in her current role at PRAXIS.
Dimerix – $20M capital raise to fund its phase three Focal Segmental Glomerulosclerosis (FSGS) trial and manufacturing of DMX 200 to treat the rare kidney disease and COVID-19.
Placed – Project Manager Drug Development & Associate Clinical Project Manager
Glyscend – first-in-human trials to test the safety of GLY-200, an oral gut restricting therapy for type 2 diabetes. Recruitment for trial has commenced in South Australia.
Placed – Clinical Operations Manager
Bcal Diagnostics – raised $10M in IPO to develop a blood-based breast cancer IVD.
Placed – 2 x Industry Research Scientists
Opyl – launch of Opin, a global web-based platform that gives patients and healthy volunteers easy access to the world's leading medical research studies and clinical trials.
Placed – Office Manager
PolyActiva – development of a new Melbourne-based manufacturing facility for their site-specific drug delivery technology. Currently recruiting a Quality Manager to project manage this and oversee QA and the QMS.
Placed – Clinical Development Manager and Commercial Operations & Business Development Associate
Mass Dynamics – mass spectrometry software platform connecting multi-disciplinary life scientists. Congratulations to Susmita Saha for her recent publication acceptance in the Science Direct journal Intelligence. Susmita was recently placed by mexec in the role of Signal Processing Engineer.
Rhinomed – initial order of 1 million Rhinoswabs supplied to NSW Pathology for large scale COVID testing.
Placed – Business Development and Projects Associate
Livac – recently launched their surgical device into the highly-valued US market.
Placed – Office Manager

BioCurate – expanded Board and Investment Committee to support next phase of growth.
Placed – Board Member and Investment Committee Member
Crux BioLabs
– rapidly growing team under the leadership of CEO
Dr Catherine
Osborne
,
promoted as part of the
WILD
program.
Placed – Quality Manager, Senior Immunology Scientist and Senior Immunoassay Scientist
Millennium Science/Jomar Life Research –
Very exciting to take another candidate from academia and transition them into industry as their new Applications Scientist. Currently recruiting a Marketing Associate.
Placed – Senior Scientific Sales Representative and Engineer
Genetic Signatures – scaled-up to produce rapid, high through-put screening technology for COVID-19 sample processing. Currently recruiting a Global Marketing Manager.
Placed – Genomics Product Manager and Field Applications Scientist
Industry News

Federal Health Minister Greg Hunt has announced $79 million in grants for three organisations to help develop new medical devices, medicines and digital health technologies – ANDHealth, the Medical Research Commercialisation Fund (MRCF) run by Brandon Capital Partners; and MTPConnect.
Company Profile
Tell us a bit about what you do.
I help small, high-tech companies navigate the Intellectual Property (IP) landscape. I started as a Patent Attorney but have worked on the corporate side of the fence for about 20 years, for companies ranging from private, through to dual-listed organisations.
What are some of the common challenges that you see companies facing with their IP strategy?
The main issues are to consistently align the corporate objectives with appropriate IP protection, in a cost-effective way. It can also be very difficult to understand where that IP sits in context with competitors, as well as identifying and enforcing any infringements. Another issue is gaining certainty that IP is valid in relation to the state of the art – will my patent be granted?
How do you work with them to avoid these pitfalls?
A lot of problems can be avoided, and much commercial intelligence gathered, by conducting searches of the patent literature. I like to combine that information with analysis of news publications, announcement and scientific papers, then link that to the company's commercial strategy. I also like to help clients understand all of the different service providers that are available to them, making their IP budget stretch as far as possible.
What do you think is the biggest challenge for the industry right now from an IP perspective?
From what I can see, artificial intelligence, algorithm development and rapid globalisation are all having their impact on the management of information. We as an industry need to accept these will cause change to the nature of jobs and then try to embrace these inevitable forces.
Contact mexec on
1300 0 MEXEC
or
email us
and we can connect you with Ash to talk through your IP requirements.
---
Latest Marilyn's Musing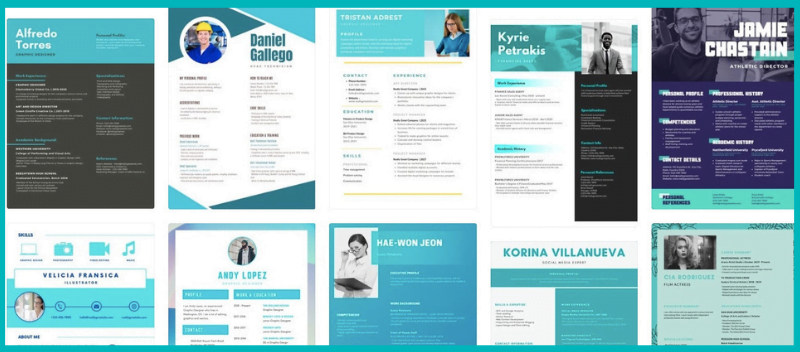 As recruiter I review 100s of CVs. Many of them are excellent, however many I see are filled with information that is irrelevant to the role being applied to or don't provide enough information.
Others have great content but are just really poorly laid out. Full of errors in spelling and grammar that distract from the great content and can make the candidate appear unprofessional.
What has really caused me grief recently though is the surge in Canva formatted CVs. I know I'm not alone and have spoken with many other recruiters and clients that don't like them.
Don't get me wrong, I love Canva, I use it all the time. It's a fabulous graphic design tool for us non-graphic designers. But when putting together your CV, it's MUCH more important to focus your time and effort on the content and putting your best self forward for the role. Otherwise, how do you stand out from other candidates when your CV looks like everyone else's!
To read why I would suggest you avoid using a Canva template for your CV, and some tips for improving what goes in your CV, click here.
Other articles that might be of interest to you:
Current Opportunities
Pivotal new role with ASX-listed, biotech success story
We've filled a lot of roles recently with roles filling quickly. To make sure you don't miss out on your ideal role create a job alert via our new website.
Successful candidates share their experience with the mexec jobstrategyTM program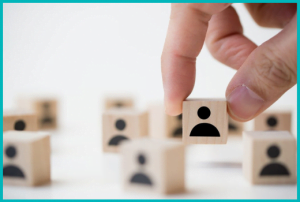 The mexec jobstrategyTM program is a personalised coaching service. It provides you with the tools to refine your job search strategy and our experienced coaches support you with a plan to go forward with your own effective job search.
"I feel the interview training with Sue really
helped me prepare and relax for the main event."
Successful candidate, Senior Project Manager role.
"Thanks for your guidance, I think the improvements that you helped me make to my CV and the interview training had a great part in my success in securing the role."
Successful candidate, Research Officer role.
"Having not been in the job search arena for over 15 years, the coaching Sue gave me on interview techniques and preparing my CV and cover letter were invaluable. I had a quick success and I know it was down to the preparation time we had." Successful candidate – Quality Co-ordinator role.
Our lead coach, Sue Forrest, is available for 1:1 sessions including a FREE 15-minute, no obligation discussion.
Recent Events and Training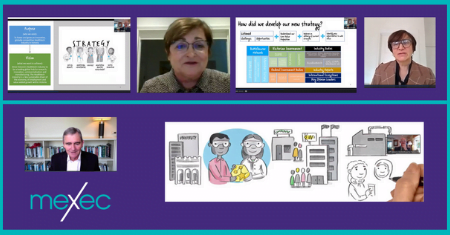 BioMelbourne Network is rolling out a new three-year strategy, developed through significant engagement and interaction with its members, local and national industry bodies, and the State Government of Victoria.
Launched by former Premier The Hon. John Brumby AO, the forum focused on BioMelbourne Network's strategy, key objectives and initiatives to support members and the greater Victorian health industry. Mr Brumby talked on BioMelbourne being the first and only state-based Biotechnology Association with 30 inaugural members in 2003, which has now grown to more than 200 members.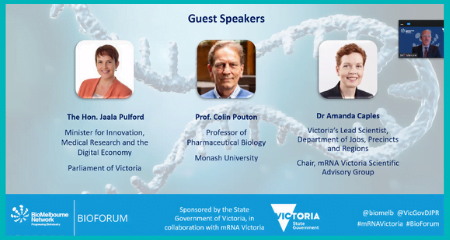 Victoria has created a dedicated body, mRNA Victoria, to establish the state as a leader in mRNA research and manufacturing with the Victorian Government investing $50M to grow mRNA capability in Victoria.
Attendees at the forum, hosted by BioMelbourne Network, heard about this newly created initiative with speakers including:
The Hon. Jaala Pulford, Minister for Innovation, Medical Research and the Digital Economy on Victoria's vision for a thriving mRNA ecosystem

Professor Colin Pouton

, Monash University, who has developed Australia's first mRNA-based COVID vaccine candidate due to commence Phase 1 clinical trials in October

Dr Amanda Caples

, Victoria's Lead Scientist and Chair of the mRNA Victoria Scientific Advisory Group, who discussed the future potential and opportunities for mRNA technology.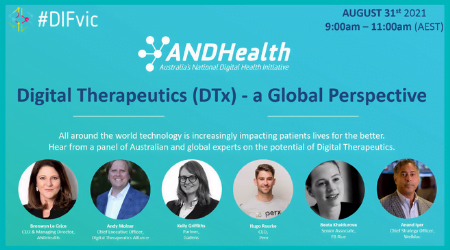 Great to hear that ANDHealth has recently secured the largest single pool of funding for digital health in Australia.
The snappy 10 minute 'to time' talks worked really well with a variety of speakers offering a great overview of where the state of play is at the moment in digital health particularly the regulatory, IP and commercial aspects.
Key takeaways from this event were:
– that regulations should not be an impediment and may give you a competitive advantage on your innovation.
– no obvious pathway for reimbursement and not a one size fits all approach.
– we need to see innovation in government policy regarding market access.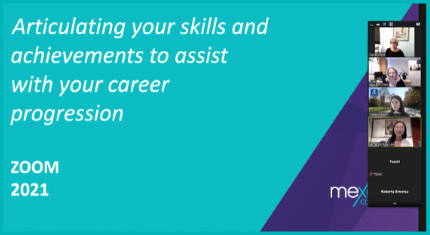 mexec jobstrategyTM coaches Marilyn Jones and Sue Forrest held a workshop recently for the Florey Institute of Neuroscience and Mental Health. The seminar, hosted by the Florey research assistants (FloRA) and the Florey Postdoctoral Association (FPA), was about helping those in an organisation apply for roles within their own organisation.
Attendees heard from Marilyn and Sue on articulating skills and achievements to assist with career progression including how to demonstrate soft skills not just state them as well as communicating technical skills.
It was great to receive positive feedback from attendees after the session including the following comment:
"Just wanted to say thank you, that was a great bit of insight into CVs from the other side – it was quite eye opening to hear what doesn't work and to compare that to what I tried in my earlier job searches…. Lessons learnt!"
Upcoming events
Praxis – a range of online and face-to-face courses for research and clinical trials
BioSymposium: Advancements in Precision Medicine – Opportunities, Challenges and Economics
3 September
Life as a Clinician Scientist NSW
4 & 7 September
Non-clinical and clinical paths to rapid vaccine development in Australia
7 September
Mums in Science: Confidence: Identifying Your Strengths to Lead with Conviction
9 September
Western Australian BioSymposium 2021
16 September
Research and Innovation Week (UQ)
13-17 September
eResearch Australasia 2021
11-15 October
ARDC Skills Summit
13 October
Australian Technologies Competition 2021
25-26 October
AusBiotech 2021
25-29 October
Innovate Health 2021
8-9 November
BioForum – Translating Innovation: From Lab Bench to Marketplace
16 November
BioCurate – BioConnections Australia 2021
18 November
Bioshares Conference 2021
1-2 December
Links of Interest
Mandating vaccines for workers – here's how to do it ethically
Referees – a humorous look at checking the validity of referees
A quick tip!
Dark Mode uses a dark colour scheme or background on
your PC or phone to make your content stand out.
For Apple:
Apple > System Preferences> General> then select one of the Appearance options at the top of the window.
For Windows:
Select Start > Settings > Personalisation > Colours.
Under Choose your colour, select the colour mode you prefer.
Please don't hesitate contact us if we can be of assistance with your job search or executive recruitment.
With best wishes,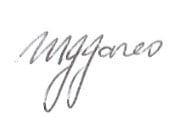 Marilyn Jones
Executive Director
mexec
1300 0 MEXEC