If the 2020 word of the year was 'pandemic' then surely for 2021 it would have to be 'perseverance.' Across the industry I've seen companies change business strategies, speakers and panellists sharing how they've persevered and pushed through, their ability to keep going despite obstacles. It's great seeing companies forging ahead to reach their goals, an important skill for candidates in their job search as well.
Recruitment has bounced back in 2021 too with changing company structures, more cross-border hiring and lots of movement. You'll see in our news section that job advertisements are at a record high – the highest level in 12 years.
For those job hunting or looking to hire, events have always been a cornerstone of networking. Pencil in some diary dates from our list below and get ready to hand out those business cards!
Latest Marilyn's Musing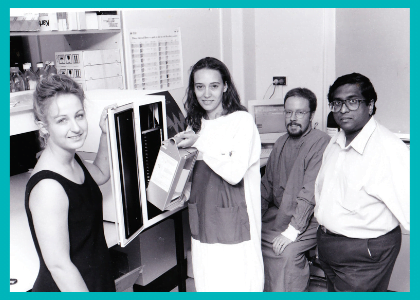 Recently, I was invited to speak at an industry masterclass on culture and leadership, being asked to draw on my own experiences and share them with the audience.
While I'm happy to chat to others about their careers, I am not a great ad-libber when it comes to talking about myself so in preparation for the event, I wrote down a few things about my own culture and leadership journey and what I've learnt along the way.
Job 1a – Answering the phone for my dad's plumbing business
Age: 5-14.
Lessons learnt: Taking down the right detail was important for making money. I also learnt not to mix business and family although the culture was great of course!
Job 1 – stacking shelves at Foodland
At 14, I got my first real job. It was half outside and in winter and I used to put socks on my hands because it was so cold stacking the shelves.  My boss was grumpy, never really said much and I was scared of him.
Lessons learnt: Don't work for someone like that again and don't create a culture where staff don't feel comfortable enough to communicate with you.
Job 2-  COLES 'check out chick' and spruiker  
I wasn't comfortable with the 2nd part of the job as it involved selling to customers over the loud-speaker but I had an encouraging boss that was willing to spend time teaching me what I needed to know.
Lessons learnt:  Great lesson to think about giving your staff a gentle nudge to move out of their comfort zone to do things that they may not have done before. It's also important that the workplace culture makes you feel safe being able to do something different.
Click here to read more about Marilyn's career journey.
Other articles that might be of interest to you:
3 Big WHYs to consider in your job search?
---
Current Opportunities
Scientific Sales Representative – Life Sciences
2 x Senior Research Scientist – Biotech 
We've filled a lot of roles recently with roles filling quickly. To make sure you don't miss out on your ideal role create a job alert via our new website.
Company Profile – Denteric
Denteric is a Melbourne-based biotechnology company focussed on oral health. They're developing vaccines for treating and preventing severe periodontal disease caused by the bacterium Porphyromonas gingivalis (P. gingivalis) and related species.
I was recently approached by Denteric as they were looking for their first employee – Head of Product Development. Around the same time, I'd also been contacted by an expat, Dr Gerhard Rank, looking to return to Australia and felt that he could be a good fit for the role.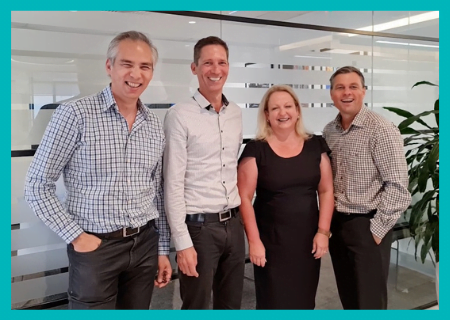 Dr Ingmar Walqvist, Dr Gerhard Rank, Marilyn Jones and Dr Chris Smith.
Gerhard and I met around 20 years ago when he was a Post Doc. I distinctly remember him riding his bike all the way from the city to Toorak for the interview! I have followed his career from Post Doc to working for local biotechs and then as Senior Project Manager at Boehringer Ingelheim in Germany.
Placing Gerhard in the role at Denteric is a great example of accessing a hidden job network for a role that's not advertised. Denteric were able to fill the role with a high quality candidate without having to advertise and screen unsuitable candidates.
Due to COVID, flexible working was arranged with Gerhard's role initially based in Germany and after 12 months he was able to bring his family out to Australia. It was fabulous to finally catch up with the Denteric team and have a photo together!
To learn how to access mexec's hidden job market or our database of potential candidates, register with us or drop us an email today.
In The News
Job Advertisements at Record High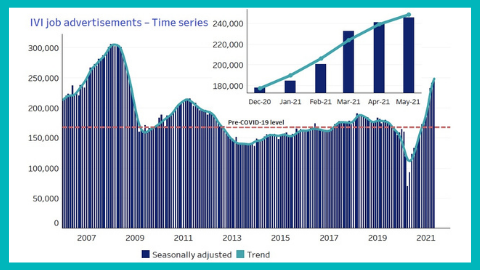 Job advertisements in Australia now stand at 163.9% above the level recorded in May 2020.
The Internet Vacancy Index released in May 2021 by the National Skills Commission shows that job ads are not only up over the last 12 months but have risen by 46.0% compared to pre-COVID-19 levels and stand at their highest level in over 12 years (since October 2008).
For more detailed information, head to the Australian Government's Department of Education Skills and Employment website.
Returning to the Office
One of the key components in job advertisements and a topic of discussion in interviews these days is around flexible working arrangements.
In a recent report by Ernst Young Global, 47% of employees surveyed across Australia and New Zealand said they would probably quit rather than return to a job that wasn't flexible. This creates an interesting situation for employers not only in retaining staff but looking to hire.

Credit: Qualtrics
The Future of Work in 2021 Report from Qualtrics surveyed 1000 Australian and New Zealanders also showed that 51% of Australians would stay longer with their current employer if the remote working policies introduced over the last year remain permanent.
Unemployment rate now lower
than pre-pandemic
With a strong increase in job advertisements, the unemployment rate continues to fall and is now lower than at any time during the pandemic.
ABS Labour Force figures show that the unemployment rate for April/May was 5.1% – back to it's February 2020 level.
Female employment was also 1.6% above pre-pandemic levels with a higher percentage of women in paid work than ever before.
Minimum wage to rise 2.5%
The Fair Work Commission has increased the minimum wage by 2.5%, to take effect on 1 July.
Following last year's low rise of 1.75%, the Commission found the present economic circumstances were "very different", with a broad consensus among submissions that current performance is exceeding expectations and recovery is "well underway".
This amounts to $772.60 per week or $20.33 per hour (based on a 38-hour week for a full-time employee).
Looking for advice, support or
mentorship for your career?
With over 35 years of experience in the medical and science sectors, Sue Forrest has occupied senior executive positions including Board roles and CEO of the Australian Genome Research Facility.
We're fortunate to have Sue as lead coach of our mexec jobstrategyTM program providing personalised coaching and supporting you with plan to go forward in your own effective job search.

Sue is available for 1:1 sessions including a FREE 15-minute, no obligation discussion.
Recent Events and Training
With over 80 speakers across 5 days, AusMedtech 2021 brought together medtech executives, decision makers and investors to celebrate the success and impact the industry has made and engage on the reimagined future of medtech.
Michael Johnson – Rhinomed, Brent Barnes – LBT Innovations,
Dr Kath Giles – OncoRes, Roger Langsdon – Planet Innovation
and Dr Anabela Correia – Livac.
Through keynotes and expert panel discussion, the conference really left no stone unturned with topics including:
Idea generation, product development, feasibility, prototyping and manufacturing
Regulatory, clinical trials and reimbursement
Investment, investor relations, partnering and grants
Growth, marketing and distribution; as well as an
Early-Stage Investment Forum.
Congratulations to Lorraine Chiroiu and the AusBiotech Team for pulling together such an engaging and informative event.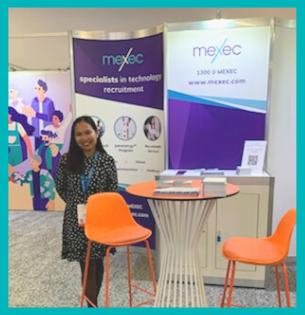 Due to COVID restrictions unfortunately we were unable to attend this event in-person but a big thank you to ARCS who provided us with a student to (wo)man the mexec booth – the lovely Frances. Frances shared her experience with us after the event which is also a reminder to add your volunteer roles to your CV:
"I appreciated it (the experience) a lot. The past few days of volunteering proved to be more fun and insightful than I expected. I learned to talk a bit more and ask more questions to people."
I was also invited to speak at the event in the Careers stream on Making the move: Tips to assist transition into the sector. I shared some practical advice with the audience including some do's and don'ts when applying for jobs and during interviews, and what does good CV content look like?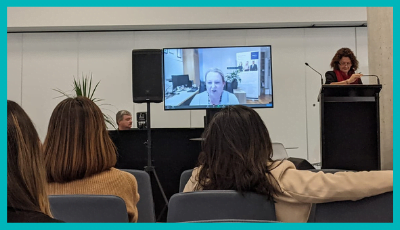 Marilyn presenting and Dr Catherine Osborne (ARCS).
ANDHealth's 6-day masterclass in digital health commercialisation is specifically designed for digital health entrepreneurs and industry executives. Participants have the opportunity to gain strategic advice and explore topics delivered by industry experts in a workshop style format with real-world case studies. I was invited to participate in a panel discussion on Leadership and Culture.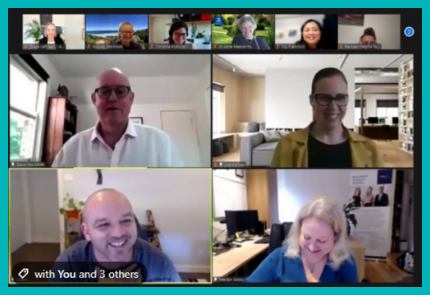 Upcoming events
Praxis – a range of online and face-to-face courses for research and clinical trials
BioForum – AI-driven Medical Technology: Device, Data or Service?
23 June
Stem Women Cafe Conversations
28, 29 June and 1 July
AusBiotech – Biotech Pitch
29 June
BioBusiness Insights: Advancing Global Business Strategy for BioPharma
27 July
AusBiotech 2021
25-29 October
Links of Interest
ATO – statistics on salaries and taxable income in Australia
Taking a Break –  the benefits of taking a short (or long) work break
A quick tip!
LinkedIn Stories enable members and organisations to share images and short videos of their everyday professional moments.
Sharing Stories is an easy way to share experiences, insights and build relationships with your professional community. LinkedIn shares Stories that you post for 24 hours and are available via the LinkedIn App.
---
Please don't hesitate contact us if we can be of assistance with your job search or executive recruitment. We wish you and your family all the best for a healthy and prosperous 2021.
With best wishes,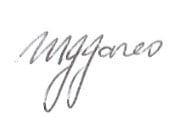 Marilyn Jones
Executive Director
mexec
1300 0 MEXEC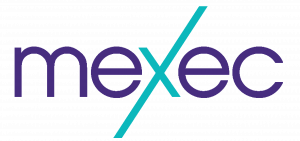 This is the heading
Lorem ipsum dolor sit amet consectetur adipiscing elit dolor

Click Here