We hope that you've had a great start to 2021. After the turmoil of the past year, it's pleasing to see that the industry has remained resilient with many companies looking to attract new talent and opportunities available for those looking for roles.
Our new mexec jobstrategy™ program with industry executive Sue Forrest has really taken off and you can read some of the success stories and comments below.
While virtual events have been a great stand-in, we're excited by the return to face-to-face events (well, apart from those small glitches when we were briefly locked away again!) which are important for connecting and networking. Read on for our summary of what's coming up.
Latest Marilyn's Musing and Podcasts
I am fortunate to be able to recruit some amazing positions for companies in science, health and technology. Companies that are developing new drugs and devices, or companies supporting those that are.
Overall, I see that things are picking up in the health and technology sector as far as new positions go, which is great, but it's sad and frustrating that many candidates are still letting themselves down in regard to representing themselves appropriately, or not seeking good advice.
I thought this month I would highlight a few examples of what I have heard a number of times recently from candidates and reflect on them so that you can think about them in your own job search.
Click here to read the full article.
Other articles that might be of interest to you:
Do you like our new website?
We've updated our website to make it easier for you to find the things that you need. You can now register for job alerts, upload your CV, search current vacancies and find advice for your own job search process.
Just for fun we've added an interactive feature in our homepage banner – see if you can find what it is!
We also have a new phone number!
1300 0 MEXEC
(1300 063 932)
Save us to your contacts so that you don't miss a call from us. We sometimes experience a high number of calls so if you can't get on to us please leave a message and we'll respond to you within 2 business days.
Current Opportunities
Senior Clinical Research Associates
Scientific Sales Representative
We've filled a lot of roles recently with roles filling quickly. To make sure you don't miss out on your ideal role create a job alert via our new website.
mexec jobstrategy™ program – success stories
In 2020 we launched the mexec jobstrategy™ program offering 1:1 coaching to support people in their own job search. We're delighted to see that it's made an impact. Here are some of the success stories and feedback we've received:
"Wanted to share the good news that I accepted the offer….
Thank you for the valuable guidance with my resume,
it surely had a big role in helping me secure the role."
"I have been offered the role I was interviewed for last week!
Thank you so much for your help and advice – I know this
wouldn't have happened without my revamped CV. "
"It's so good to speak to someone who knows where you are coming from. Thank you, Sue, for being so supportive."
To learn more about the program or to get in touch with Sue or Marilyn, our jobstrategy™ coaches, click here.
In The News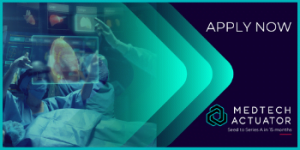 Applications are now open for MedTech Actuator – Asia Pacific's MedTech Catalyst. The MedTech Actuator's specialised acceleration model surrounds you with the support you need to bring your MedTech, HealthTech or BioTech innovation to the patients and clinicians who need it most.
Applications close March 14 2021. For more information click here.
Become an EMCR Representative on an
Australian Academy of Science National Committee for Science
The Australian Academy of Science National Committee for Physics and the National Committee for Cellular and Developmental Biology are each seeking an early- to mid-career researcher (EMCR) to join the committees in 2021 as their EMCR representative.
Find more information, eligibility criteria and the application form at the Academy website.
Applications close March 19 2021.
Biotech boards' gender diversity moving forward
Gender diversity on biotech boards has increased, with a recent review of ASX-listed biotech companies revealing an average representation of 26 per cent for FY20.
Click here for the full AusBiotech Newsroom article.
Recent Events and Training
The Florey Institute Workshop
Marilyn and Sue recently held a workshop at The Florey Institute offering career advice and support to candidates looking to progress internally. The focus of the workshop was articulating soft skills as well as research skills when writing your CV, applying for roles and networking.
The tip of the day – which applies to anyone – was to get to know 1 new person at your organisation every month.
The workshop was supported by The FloRA Committee.
BioMelbourne Network BioBriefing –

Hot or Not: Paving a Path for 2021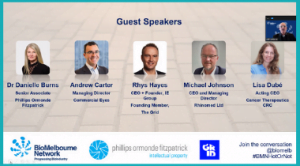 BioMelbourne Network's ever popular Hot or Not BioBriefing was held recently offering a great line up of speakers. A diverse range of topics was covered during the virtual event which included:
how different organisations have approached their COVID vaccine IP strategy
logistics, technology and employee welfare – transitioning a whole company to working from home
the launch of an exciting new media brand initiative for 2022
the latest technology for COVID nasal swabs without the "brain stab"
collaborations for cancer drug and therapeutic discoveries entering clinical trials
Upcoming events
Praxis – a range of online and face-to-face courses for research and clinical trials
Science Meets Parliament 2021
2 March
Stem Women Cafe Conversations
2 and 4 March
Prime Minister's Prizes for Science – applications close
9 March
ANDHealth webinar – Frank and Fearless Female
11 March
Australian Pharmaceuticals Professionals Association webinar – Reflecting on a year of crisis
11 March
International Women in BioMedicine
15 March
BioBriefing – Strengthening Sovereign Capabilities: Advanced Manufacturing for Australian BioPharma
16 March
ANDHealth Digital Health Summit
17-18 March
AICD Twilight Networking Event – members only
18 March
National Telehealth Summit
20-21 April
AusMedtech 2021 Conference: Medtech made to measure
17-21 May
BioMelbourne Network: Connecting Women's Lunch
Postponed – TBC
BIO Digital
10-18 June
Links of Interest
Victoria's Lead Scientist – Women and Girls in STEM map
Course Seeker – find a course that's right for you
A quick tip!
Have you tried LOOM? No, not ZOOM, Loom! Loom is a video messaging tool that helps you send a message through instantly shareable videos.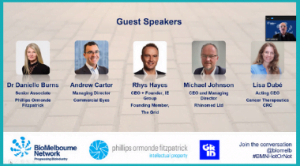 If you click here you'll see we've created a Loom of our new website including how to access current job vacancies.
Please don't hesitate contact us if we can be of assistance at this time.
We wish you and your family all the best for a healthy and prosperous 2021.
With best wishes,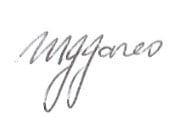 Marilyn Jones
Executive Director
mexec
1300 0 MEXEC